SRINAGAR: Suicide attackers carrying a massive amount of explosives broke into a Border Security Force (BSF) camp near the Srinagar airport before dawn today and opened fire, killing one soldier. Two terrorists have been killed. Firing is still on as more terrorists are in the sprawling, hilly campus, which shares a wall with an air force station.
Pakistan-based terror group Jaish e Mohammed's "Afzal Guru squad" has claimed the attack.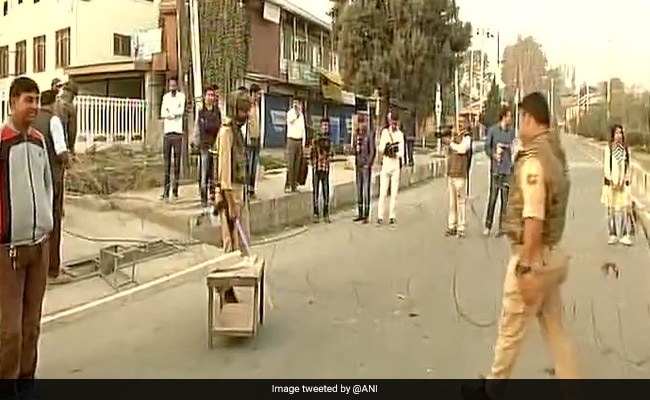 A group of four or five terrorists in military fatigues breached four layers of security at BSF's 182 battalion at 3.45 am, when it was still dark. They fired indiscriminately and threw grenades. The soldiers retaliated and shot down one of the attackers. The body of a BSF jawan was found during searches.
Gunfire and explosions were heard for hours as the forces, including Quick Action Teams and members of the Special Operations Group, tried to corner the terrorists. Home Ministry sources have expressed concern that the terrorists were able to cut through multiple layers of security.
"We know the exact location of the terrorists," top police officer Munir Khan said around 8.30 am.
Three wounded soldiers have been taken to hospital.
All flights were stopped at the Srinagar airport in the morning and the routes leading to the airport were sealed. Visuals showed a long row of cars lined up on the way to the airport.
The BSF camp is situated close to the Srinagar Civil and Technical airport, which is used by the armed forces and VIPs. The BSF guards one side of the airport's outer ring.
There has been a spurt in infiltration attempts by terrorists from across the border over the past few weeks but in sheer audacity, today's attack has been compared to one over a year ago in Uri.
In September last, 19 soldiers were killed when terrorists from Pakistan attacked an army base in Uri. A few days later, the army carried out surgical strikes across the Line of Control targeting staging areas for terrorists planning to attack Indian cities.
Source: ndtv